Belle of Louisville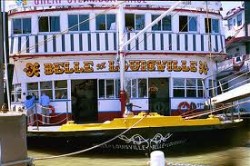 If you're visiting the Louisville area or looking for a fun outing, you might enjoy a cruise on the Belle of Louisville. The Belle of Louisville holds the title of the oldest river-style steamboat in the world and still operates year round providing sight seeing and entertainment to city residents and tourists alike.
The Belle of Louisville will turn 100 years old in 2014 and the city will hold a birthday celebration. The steamboat was built in Pennsylvania in 1914 and originally named the Idlewild. The boat was named a historic landmark in 1989. The Belle of Louisville is the property of Louisville Metro Government and offers lunch or dinner sightseeing cruises, historic river tours, comedy cruises, and special holiday events. You can also book the Belle for private events and it makes a unique venue for proms, reunions, weddings, and corporate events.
While on board the Belle you'll enjoy listening to entertainment, learning historic facts, and viewing the scenic river from the decks. Concessions are also available on board. Tickets to cruise on the Belle generally run between 20 and 40 dollars depending on which cruise you prefer and whether or not you choose to enjoy a meal while aboard. Tickets to the Belle of Louisville can be purchased on the Belle's website, via phone, or at the ticket office located at 401 West River Road in Downtown Louisville. There are loads of things to do in the Louisville area! Feel free to browse for more Louisville attractions or contact a member of At Home In Louisville Real Estate Group to learn about homes in Louisville.