Big Four Bridge 2014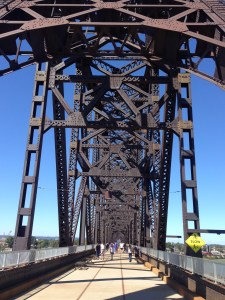 Have you taken a walk or a jog on the Big Four Bridge since it opened last year? If so, have you been back since the Indiana side was completed? While the Louisville side access to the Big Four Bridge opened in February of 2013, the Jeffersonville Indiana side was not made available to the public until May of 2014. It is now possible to walk, jog, run, or bike from Kentucky to Jeffersonville in Southern Indiana via the bridge.
The bridge is open 24 hours a day with the park around it available from 6am-11pm. The total length of the bridge is about a mile including ramps on both sides and the bridge itself (the bridge itself is ½ mile long). It's a great spot for some fresh air and exercise. Take a jacket because it is a bit windy up there and enjoy the views!
Now the bridge is open on both sides it will be a wonderful business growth opportunity. Jeffersonville Indiana already has plans for additional shops and restaurants to be added to the historic downtown area where the walking bridge ends. There is hope that with the completion of the bridge we'll begin to see more events, festivals, and entertainment in the area on both sides as well.
Visit the Big Four Bridge on the next sunny day for a refreshing walk and view of the Ohio River. Call At Home In Louisville Real Estate Group today at 502-371-1173 for more information about the area or to discuss your home in Louisville.