Big Four Bridge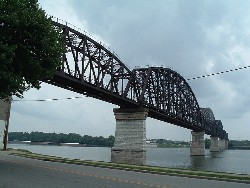 It's finally here. The old train bridge that has been transformed into a pedestrian friendly walkway opened this morning, February 7th 2013. Mayor Greg Fisher had an official opening ceremony at the base of the spiral walkway.
The Big Four Bridge has been a work in progress for some time. If you have traveled down River Rd recently into Downtown, you might have caught a glimpse of construction workers putting together the new spiral walkway that leads to the refurbished Big Four Bridge. The bridge has been re-decked, and lighting and handrails have been installed. Kentucky and Indiana officials announced in 2011 that a total of $22 million was to be spent on the project. Indiana has not yet finished their side of the ramp, but Kentuckians are now welcome to visit and walk this historic bridge (the bridge originally opened in 1895!).
The bridge is also bicycle friendly and will have a painted line down the center of the bridge for bicyclists. This isn't surprising considering Louisville has been recognized many times for being a top bicycle friendly city in America.
A full walk from one side of the bridge to the other, including the ramp, and back (the Indiana ramp is not yet finished so you'll have to make the journey back) will be a good 2 mile walk. So if you are looking for a fun and healthy way to get in shape and see some sights this spring, make sure to stop by the Big Four Bridge.
For more exciting events in Louisville continue to check out our blog or contact one of the amazing Louisville Realtors on our team.
By: Katelyn Vittitow, Buyer Agent