Downs After Dark Louisville Ky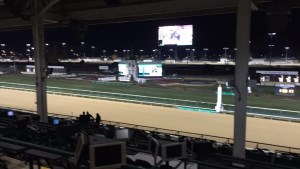 If you would like something exciting to do this summer in the Louisville nightlife, look no further than Downs After Dark! Since the first night race at Churchill Downs was held in 2009, it has been a success for the track and a popular event among Louisville residents. Downs After Dark is held on Saturdays and the dates for this year are June 18th, July 2nd, and September 24th. The gates open at 5 pm and the first race begins at 6 pm. Enjoy some exciting horse races, place some bets, listen to the live music, and have a few drinks!
Downs After Dark is an affordable way to have fun in Louisville. General admission tickets are just $10 and reserved ticketing starts at $25. There are also tickets available for The Courtyard, a 21 and over area on the home stretch of the track, for $70. Included with this ticket is draft beer and wine from 6-10 pm, small-plate style food, a racing program, and access to outdoor and indoor seating.
For a full calender of events, visit the Churchill Downs website. For more information about the area or homes in Louisville call 502-371-1173.