Eggs Over Frankfort Louisville KY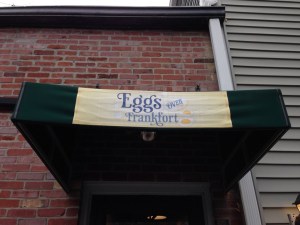 One of the great things about living in Louisville is all of the local businesses. Louisville has a wide array of local shops and restaurants sprinkled throughout various neighborhoods and areas of town. Even if you've lived here ten years or more, there always seems to be something new to try or discover. While there are many excellent chain restaurants in town, the local restaurants really do add to the cultural richness of the area and break up the monotony.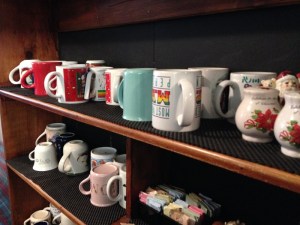 If you're looking for a new breakfast restaurant, check out Eggs Over Frankfort. My husband and I really enjoy getting breakfast together Sunday mornings after church and we like to try new places. We stumbled upon Eggs Over Frankfort recently and had a great experience. The restaurant is quite small and it was packed the day we visited. While we did have a small wait, the environment was warm and the staff very friendly. While we waited we were invited to choose a mug from a nearby book shelf and were served coffee (very homey atmosphere!).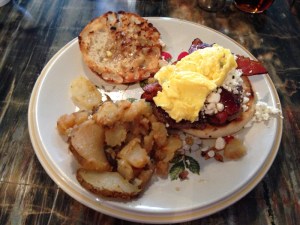 The restaurant serves breakfast and brunch and the menu has some unique options. We both ordered variations of the Breakfast Burger, a burger served on a maple glazed english muffin with goat cheese, egg, and bacon. We had sides of delicious cheese grits & breakfast potatoes. Yum! The food served around us also looked appealing with options including red velvet pancakes, eggs benedict, breakfast burrito, built your own omelet and more! Eggs Over Frankfort is open daily from 7:30am-2:00pm Monday-Friday and 7:30am-3:00pm Saturday and Sunday. The restaurant is located at 2712 Frankfort Ave Louisville KY 40206. Be sure to arrive early to avoid the crowds and ask for extra syrup if you order the burger! Support our local business and check out Eggs Over Frankfort if you're in the area. Give us a call today for more information about the Louisville area or to learn about Louisville Real Estate.
By Lauren Hammond, Listings Coordinator