Grind Burger Kitchen Louisville KY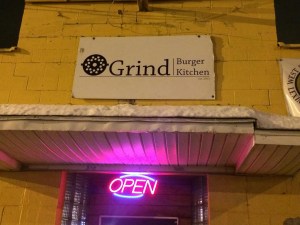 Louisville is definitely a foodie city and I can't reiterate enough how glad I am for that. As if Louisville wasn't already a great place on its own, it gets to boast a consistent stream of new and local restaurants where the chefs are artists and the food is delicious. One local gem that I have been waiting to try for a while is Grind Burger Kitchen. Starting off as a food truck – the popularity of the burger turned this truck in to a full time restaurant on Preston Highway. From what I can tell, this place is here to stay.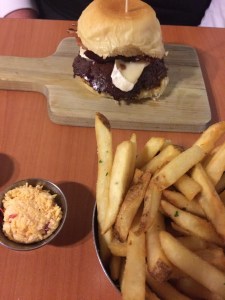 Good luck trying to find a "top Louisville restaurants", "top new eateries", or "top burgers in America" list without seeing Grind Burger Kitchen on it. This caught my attention and I couldn't wait to find out what the buzz was about. I immediately followed Grind on social media and was pleasantly surprised to see how active Grind was with their fans. I haven't heard anything less than amazing and raving reviews of this restaurant.
I finally made it to Grind Burger Kitchen in February, and while I wanted to order everything on the menu, I decided on the special of the week (which included Benton's Bacon and garlic mayo as toppings) while my husband ordered the B&B Burger – the house special. As good as my burger was I had to make my husband switch with me because I could not get enough of the apricot jam on his burger! When you read the menu, the chefs tell you not to make any adjustments or substitutions to the B&B Burger and to trust them. I can't recall ever ordering anything off of a menu without changing something but I followed the orders of Grind and trust me, you should too. Just order it how it comes.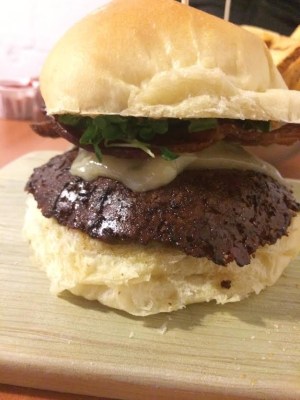 I was in Heaven. Every bite had lived up to all of my expectations of the restaurant. Even as I write this now I'm planning my next trip back. We highly recommend swinging by Grind Burger Kitchen!
Grind Burger Kitchen is located at 3311 Preston Hwy and open Wednesday through Friday 11a-3p & 5p-10p and on Saturdays 11a-10p. Always check their website in case the times have changed. For more information about places to eat & things to do in Louisville, feel free to explore our blog. We also welcome the opportunity to speak with you about homes in Louisville!
By Katelyn Vittitow, Realtor