Halloween in Louisville KY 2015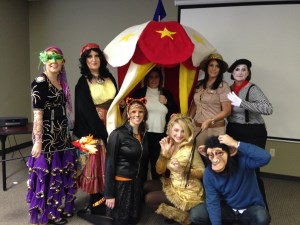 Happy Halloween from At Home In Louisville Real Estate Group! Last Wednesday October 28th, Keller Williams Realty East had a great day of Fall Festivities. We kicked off the day with our office meeting which concluded with a costume competition with prizes for best individual and group costumes. Evan McWhirter took the individual prize with his fantastic Mario Cart costume complete with bike & balloons! At Home In Louisville was so excited to win the group prize with our fun circus theme "Madame Kathryn's Circus Freaks".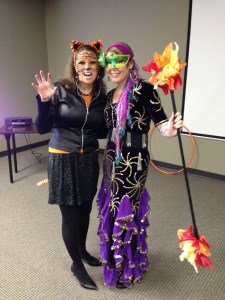 Most of our team was available to attend that morning and we had so much fun representing different circus characters. Later in the day, there was a chili cook off. Pam Ruckriegel took home the trophy for best chili. The day finished with trick or treating for children & family of our terrific staff. We had a good number of children roaming the halls and saw some great costumes! The office was a spooky spot with most of the doors decorated for the season. Our space was in line with our theme complete with Big Top decor, balloons, music, and even some silly fortune telling from Kathryn. What fun! We hope you all had a wonderful & safe Halloween.