Hammerheads Louisville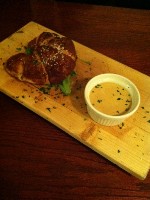 Keep Louisville weird. How can you do this? You can start by visiting Hammerheads for dinner. Located on Swan Street, this locally owned little restaurant has good portions and satisfying prices. My husband and I were invited to try it out by one of their chefs, Griffin Paulin, so we stopped by on Valentine's Day and were delighted with the cozy corner booth we sat in.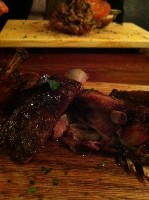 You could smell the food when walking in thanks to the double barreled smoker outside. We arrived around 5:30p and beat the crazy rush that happened only 30 minutes later. Our waitress was very friendly and made great recommendations. I'm generally a picky eater but I loved each item of food that we ordered.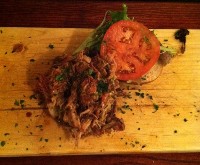 We started off with the beer cheese appetizer. This was my favorite item of the night. I almost ordered a second helping- but I'm glad I saved room for the delicious entrées. The soft, warm croissant was light and fluffy and the cheese had a touch of tang to it that I really enjoyed.
Pick up a napkin, I can see you drooling- and for good reason. I never had BBQ Lamb Ribs before and after a recommendation by the chef to get the full rack, I quickly devoured these ribs. There was plenty of juicy meat on each bone which is a big plus.
My husband ordered the Roasted Duck and naturally, I had to eat some of his food as well. This was my first duck experience, and I was not disappointed. In fact, I'll probably order this the next time I go so I can enjoy the whole sandwich (one bite was not enough).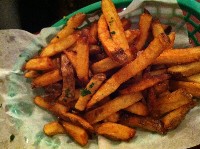 We split a basket of Truffle Fries at the recommendation of the waitress. Even though my fries were smothered in ketchup, I could still taste their crispy flavor. This was a really good choice.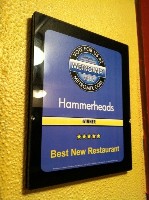 This sign caught my eye on the way out. Keep up the good work Hammerheads. I'm not surprised by your win! Louisville has a wonderful selection of local restaurants and businesses. Contact At Home In Louisville Real Estate Group for more fun things to do in Louisville, KY or information about Louisville Real Estate.
By: Katelyn Vittitow, Buyer Agent