Happy New Year 2014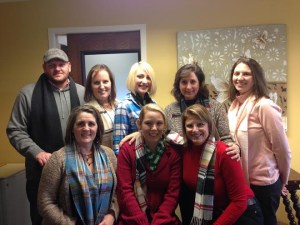 Happy New Year from At Home In Louisville Real Estate Group! We are starting off the New Year with a bang and looking forward to all of the promise of 2014! Our team enjoyed a wonderful holiday season with friends and family. We had a great time gathering together during our team holiday party and are staying warm during this chilly New Year.
We wish all of our family, friends, and clients a wonderful 2014 full of peace, hope, love and success.
How are you spending your January in Louisville? Have you made any New Year's Resolutions? Some of the most popular New Years Resolutions generally involve health, fitness, family time, financial changes, travel, community involvement, and taking part in recreational activities. Whatever your personal ambition, Louisville is a fantastic place to acheive your goals. Check out a few ideas below to get you started on just a couple of these popular resolutions.
Health & Physical Fitness:
Louisville has a multitude of physical fitness opportunites both indoor and outdoor. During the winter months, indoor activites are likely preferable, so we've offered up a few suggestions for fitness memberships.
1) YMCA of Greater Louisville
2) Jewish Community Center of Louisville
3) Louisville Athletic Club
4) Maximum Fitness
5) Fitness 19
Travel:
Whether you're interested in a "staycation" or a far of destination, Louisville has some great services to help you with your planning. Louisville is without a doubt a great place to travel into or out of. The UPS hub is located here and according to the company's research 2/3 of US cities are within a 24 hour drive and 3/4 of domestic destinations can be reached in under two hours by air. Below are a few suggests for local and destination travel assistance.
1) Platinum Travel
2) AAA
3) The Travel Authority
4) Advantage Travel Services
5) ...and for local exploration, visit the Louisville Visitor's Center or Gotolouisville.com
Feel free to contact our team for more information about the Louisville area or for up to date information about the Louisville Real Estate market.