Home Values
Home Values
When you want to sell your home in Louisville, one of the most important questions you have is, "how much will my home sell for?" One way to simplify things and get a clear understanding of this is to understand home values. Home Values must be understood from the point of view of the big picture to really get a clear perspective for what home prices have done historically. This helps us understand what is going on so we can get a better idea of what will happen now and in the future. Do do this, let's look at median home prices nationally.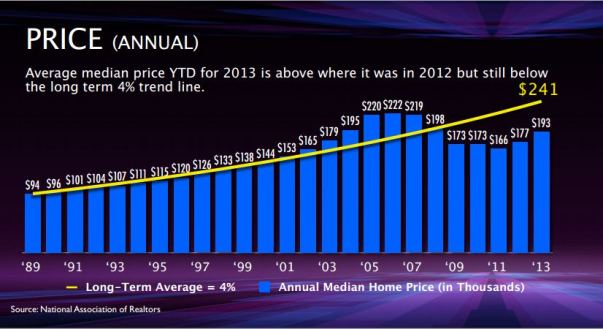 Home values increase at a rate of 4% annually. Looking at the yellow line in chart here we can see that from the years1989 to the years 2001 home values steadily rose 4%. Then, from 2001 to 2006 prices rose dramatically. 2006 through 2011 we can see prices decline. Now look what is happening from 2011 to 2013. Prices are beginning to rise again.
The number on the yellow line is $241. That is, according to historical home prices, the national median home price for the year 2013, is $241,000 dollars. Currently, we are at $193,000. So, this year, national home prices are still undervalued. The truth is, home values are trying to get back to this yellow line. If it gets too far above it, it will adjust. If it gets to far below, it will also adjust. So, as we move forward, which way do you think home values will move in 2014, up or down?
We've been looking at the national median trend to gain a holistic perspective on home values in the real estate market nationally. That helps us see through some confusion and get some clarity. That's great. We must also understand that real estate is a local business. We know this intuitively. Some neighborhoods are selling great at certain prices while homes in other neighborhoods are not selling nearly as well. Factors depend on neighborhoods and even particular streets in certain neighborhoods.
There is no better idea than consulting with a Louisville Realtor to understand the neighborhood, and what is happening with home values on this particular street in this particular neighborhood. We hope when the time comes for you to make that decision, you will consult with us here At Home In Louisville 502-371-1173.