How Do I Get Preapproved for a Home Loan In Louisville KY?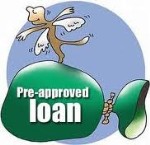 A lot of home buyers experience anxiety and have common misconceptions about the mortgage preapproval process. Sitting down with a mortgage banker might even seem torturous. Many buyers worry about finding time for the appointment or believe getting preapproved will cost money. Getting preapproved for a home loan is actually a fairly simple process and totally free. Preapproval can now be done online, via phone, and email which saves consumers time. No need to take a half day off of work or take a long lunch! If you like, First Commonwealth Mortgage (one of our recommended lenders) can send you an Adobe PDF application over e-mail.

They will ask you to return a short list of items including your last two paystubs and W2's. Once you send back the application and requested documents, pre-approval can be completed within 24-48 hours. The lender will then give you a call back to review your preapproval via phone or in person. Pre-approval can be quick, painless, and convenient! To learn more about financing a home in Louisville or Louisville Real Estate feel free to contact At Home In Louisville Real Estate Group.