Justin Giddings on Conan Obrien
Justin Giddings on Conan Obrien?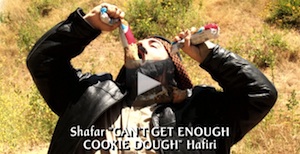 On the evening of May 3rd 2011, Justin Giddings appeared on the TBS show Conan Obrien. Conan discussed the fact that with the death of Osama Bin Laden, the terrorist organization he headed would be in serious trouble. He placed pictures on the television of the next group of potential leadership. The results are hilarious. Perry and Lynn Thomas's son Justin was, 'Shafar Can't Get Enough Cookie Dough Hafiri'. What a riot.