Kathryn Sotelo teaches Keller Williams Agents how to work with new internet clients
Kathryn Sotelo teaches Keller Williams Agents how to work with internet clients.
Kathryn Sotelo shares the success she has working with online buyers. People search for homes online typically need a Louisville Real Estate Agent to help them.  Kathryn has experience and expertise to help them get the home they love quickly for the best possible price.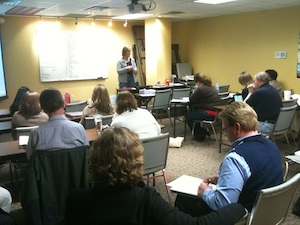 Kathryn Sotelo works with people online everyday.  Every single day buyers online are looking for homes on The Lynn Thomas Team website.  Online buyers can search for any home current listed on the Louisville MLS by going to www.LynnThomasTeam.com.  Kathryn approaches those folks, offers her services and helps them purchase the home of their dreams quickly with the least amount of hassles for the best possible price.  She has adopted a tried and true model of how to do that and offered to train the other agents in the office to that they too can be successful.  So a room full of learning based Keller Williams Real Estate agents packed into the training room at the Keller Williams Louisville East office located at 1230 S. Hurstbourne Pkwy Suite 100 Louisville Kentucky 40222.  They wanted to learn how how she does it.  They asked excellent thoughtful questions about how it works and why.  Kathryn was able to guide them on why an agents online presence is so critical.  In, 2010, according the the National Association of Realtors, 90% of buyers started their search for their home online.  Kathryn's thought is, 'as a buyers agent, an agent who represents the buyer in the purchase of a new home, why wouldn't I be online helping represent them in their new home purchase?  As a buyers agent, I need to be where the buyers are.'  The agents who attended the class are the best real estate agents in Louisville Kentucky.  The agents loved the class.  They were so grateful for the great information Kathryn so generously shared.  Kathryn did a follow up with everyone willing to work with online buyers to Mastermind and share the results they had in their next meeting.  Great job Kathryn.