Louisville Zoo Halloween Party 2014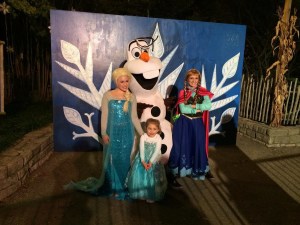 Every year Meijer sponsors a spooky but friendly fundraiser for Louisville's nonprofit zoo known to Louisvillians as "The World's Largest Halloween Party". Over 60,000 people came last year to the zoo in October to trick or treat, raising $159,000. I have taken my daughter to this event for the last 3 years and have enjoyed each visit. After 33 years of hosting this event, the zoo has it down pretty well. It takes my little family about 1 to 1.5 hours to walk through the whole zoo. There are plenty of places to stop and get candy and most of those places happen between each character sighting. The zoo has set up a nice variety of characters that the children can visit – ranging from super heroes, popular faces such as Disney's Frozen's Anna & Elsa, to classic story book tales.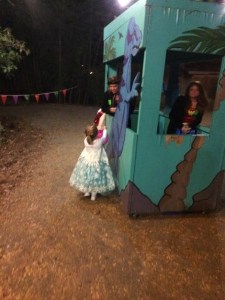 Throughout the walk, you will have opportunities to stop at kiosks and purchase snacks such as pretzels, nachos, and soft drinks. At the halfway mark, there are tables to sit and relax as the kids find themselves in a futuristic dance scene complete with a disco ball and upbeat music. There is also a small maze created with hay bales and trees for the kids to run through while mom and dad take a break. The costumed characters are friendly and act just like the characters you know and love. It's almost magical to the kids. I know my three year old couldn't get enough of meeting the many princesses. For the kids who like Halloween to be a little scary, they will get to meet pirates and enjoy some monster décor. Ultimately it's designed for kids to be able to have fun and just enjoy trick or treating with their families.
This event is a must do and should definitely be added to your annual Autumn list. The World's Largest Halloween Party is held each weekend from 5pm-8:30pm. Children under 3 are free. Discounted tickets can be purchased at Meijer stores. Some of the nights do sell out so you want to purchase tickets early.
For more information about Louisville events or to discuss Louisville Real Estate call 502-371-1173.
By Katelyn Vittitow, Realtor