Melanie's Family Moving Day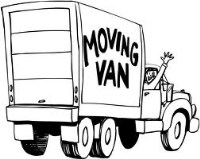 Whether you're moving across town or across the country, moving is a life changing experience. All of the packing, financial planning, and quiet conversations between family members finally come to rest and a new chapter of life begins.
Shortly after joining At Home In Louisville Real Estate Group, my husband and I traveled with our daughter and her family to assist with their move to Texas. As the big yellow moving truck pulled away from our house, our daughter and her family began their journey to Texas with a little help from Mom and Dad.
As the 1,000 mile drive began from Louisville to Kerrville, Texas my husband drove the big yellow truck and pulled an extra vehicle while my daughter and her family followed behind in their car. The journey itself was fairly uneventful (considering we were traveling with a two year old and five week old infant) minus the pit stops for diaper changing, nursing, gas, occasional emergency and of course food. Our first night we stopped in Arkadelphia, AR and we were able to park the big yellow truck in a safe place underneath some great lighting, so no worrying there. Our two year grandson slept in our room so we had to go to bed at 8:30 p.m.!
Day two began and was again uneventful with good weather and mild traffic. We arrived at their townhouse around 8:00 p.m. and it was 107 degrees!! No thank you not my kind of weather. Anyway, we went to unload the truck only to realize there was no way all of their items would fit into the little townhouse. So, we went to bed, got up in the morning and started looking for another house to rent (luckily their lease was almost up and they hadn't renewed yet) and guess what? We found one! -A beautiful house I might add.
We started unloading the truck, now the complication comes in because my son-in-law had been living in the town house, so we had to pack up the townhouse load the truck and then unload it again at the new beautiful house…did I mention it was 107 degrees and we had a two year old and brand new baby with us? Imagine the scenario.
After a few days my husband and I got them settled in Texas and had to fly back to Louisville to an empty house. No toys to step on, no food on the floor under the table, no bottles in the sink to wash, no laundry piled up , no crying babies and no laughter. Our hearts were broken. We are hoping to get a call for Mom and Dad to come help them move again soon and that this time the big yellow truck will be moving them closer to home.
By Melanie Jones, Buyers Agent
For information about moving to Louisville or homes currently for sale in the Louisville Real Estate market, please contact us today.