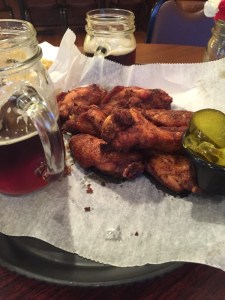 In the mood for BBQ? Louisville has a variety of BBQ options, but one local restaurant you're sure to enjoy is Momma's Mustard Pickles & BBQ. Momma's is a family owned establishment with two locations in Louisville (One at 119 S Hurstbourne Parkway and the other at 102 Bauer Ave near St Matthews). The restaurants are open daily from 11am to 10pm and even offer catering and take out.
Momma's has just about anything you could ask of a BBQ establishment with wings, juicy ribs, chili, sliders, sandwiches, and BBQ meat by the pound. Of course, there are also a couple of yummy homemade BBQ sauce options.
Not only is Momma's a fun environment and a nice local business to support, but they also are involved in charitable giving in the Louisville area. A 1% surcharge is applied to all orders which is matched by Momma's. Proceeds from this charge go to support Louisville charities including Home of the Innocents, Special Olympics, & Dare to Care. Give Momma's Mustard Pickles & BBQ a whirl the next time you're craving BBQ.
Call At Home In Louisville Real Estate Group at 502-371-1173 for more information about dining in and around the Louisville area or to learn about homes in Louisville.