In a nutshell, a book called "Hold" is all about buying real estate at a good price, putting tenants in it for a positive cash flow, and building your wealth.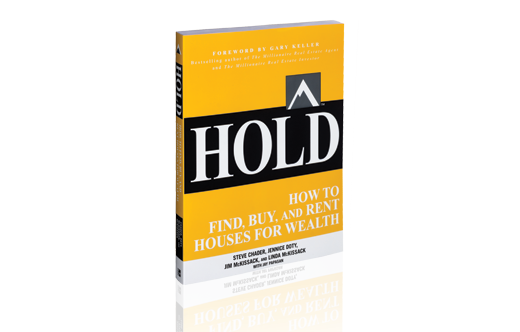 It's not a book about getting rich quick. It's not about the latest fad or trick or sexy new thing that will change your life. It's a book that goes over time tested principles for gaining wealth through owning real estate.
The book was written by our good friends Jimmy and Linda McKissack out of Denton Texas and Steve Chader out of Mesa Arizona. What's cool about them writing it, is they have the experience to back up what they are saying because they actually built their wealth buying residential real estate. They share their tried and true methods on buying and owning real estate.
The book begins with acquiring real estate. It answers all sorts of questions like; What neighborhoods do you look in? Should you pay asking price? Then it covers financing. How do you find tenants? Who should be on your investing teams and why? They even provide online spreadsheets to make sure your numbers are right. Basically, it is a step by step process on how to buy homes and rent them out to create positive cash flow.
We personally use these principles to grow our own wealth. At one point, the book mentioned Jimmy McKissacks original goal getting in. He was forty and decided by the time he would be 65 (that's twenty five years later) he wanted to own enough real estate to generate $20,000 a month net cash flow. That was the number he wanted to hit to retire. He exceeded that goal. This example clarified the why do we accumulate wealth.
We would love to help you invest in real estate, if this is your goal. We have some links for you to browse just to see what is potentially available. For example, our Louisville investment properties page has all the properties in Louisville that are distressed. That is REO's or shortsales for sale. Then we suggest you use one of our licensed Louisville realtors to assist you in acquiring your asset. Remember, their fee is paid by the seller, so there is no cost to you for purchasing Louisville Real Estate.
...