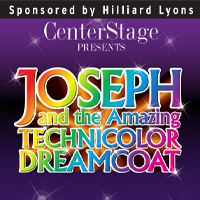 If you're looking for a fun night out this weekend, consider attending one of the five remaining performances of Joseph and the Amazing Technicolor Dreamcoat performed by CenterStage at the Jewish Community Center. The popular musical first premiered in London's West End in the 1970s and then on Broadway in 1982 with music by Andrew Lloyd Webber and lyrics by Tim Rice (well known to many for his contributions to Disney's Aladdin, Beauty and the Beast, and Lion King). The show follows the Old Testament story of Joseph from the Book of Genesis and is presented by a narrator along with a large cast of adults and children. Songs cover a variety of musical styles including western, rock, calypso, french ballad, and disco. CenterStage presents seven shows a year and is directed by John R. Leffert. Shows offer an enjoyable night out and showcase the talents of local actors and musicians. Support our local community theatre and take in a show this weekend!
Remaining Productions of Joseph and the Amazing Technicolor Dreamcoat:
Monday February 25th at 7:30pm
Thursday February 28th at 7:30pm
Saturday March 2nd at 7:30pm
Sunday March 3rd at 2:00pm and 7:00pm
Tickets are available at the Jewish Community Center located at 3600 Dutchman's Lane, Louisville, KY or via phone at 502-459-0660.
Contact us for additional things to do in Louisville Ky or to learn about the Louisville Real Estate market.