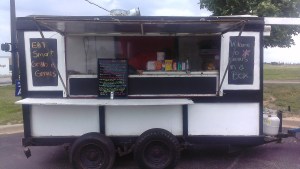 Trying out new things in Louisville is one of my favorite things to do. I love this city and have adopted it as my own. This is one of the reasons I absolutely love helping people find their home here in this wonderful city. One of my newest fascinations is Louisville's food trucks. A brilliant idea! Food on wheels! I'm always pleasantly surprised at how great the food tastes.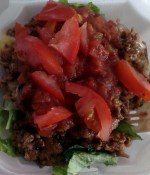 One of those happy surprises is the food truck Genius In A Box. My husband and I were checking out Jeffersontown's Gaslight Festival when I felt drawn to this creative truck. I ordered the sandwich The Genius (I'm a sucker for anything that has ham and sautéed onions!) and it melted in my mouth. The sandwich was big enough to feed me and my husband.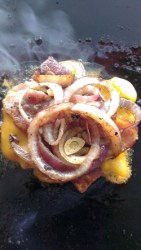 The food was enough to make me want to come back, but as a bonus I was fortunate enough to get to talk with the owners, Tristian and Diedrea Barnes. They were both incredibly friendly and patient enough to answer all of my questions about the business of food trucks. When you see this truck driving around, make sure you stop and say hi from the At Home In Louisville Real Estate Group!

"Genius In A Box was created from matrimony. We took our savings from our wedding and started this business. We thought, 'what better way to share our love, then by giving Genius to those who love great food.' Even though I'm the Chef and my wife's the smile, the taste of Genius comes from unified effort-flavors each dish with a sprinkle love."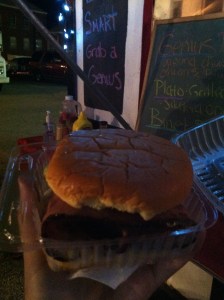 "We started Genius in March 2012. We decided to be the forerunners of the food truck industry. When we started, there were only 5 other trucks doing business. Genius, Louisville Dessert , Booty's Diner, Holy Mole, Lil Cheezers, and Traveling Kitchen. Now, food trucks have become a desired choice for many homes and have continued to become widespread throughout Louisville. Genius in A Box is not only food, it's culture, it's love, it's creativity. We strive to be different, I remember at my aluma mater, UofL , one of our slogans was 'Dare to be different', and that's what Genius stands on. So when you are out and about and see that li'l old white trailer, just don't think great food, think great people with lots of love- and always think Genius."
- Tristian Barnes, Owner
For more information about other great places to eat in Louisville or to learn about Louisville Real Estate, contact At Home In Louisville Real Estate Group today.
By Katelyn Vittitow, Realtor
...