Pets in Winter Louisville KY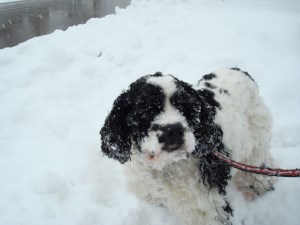 Did you know that At Home In Louisville Real Estate Group loves animals? Virtually all of our team members have one or two lovable furballs at home. Pets are members of our family and its important to watch out for them as the temperatures drop. While most of our community is aware of the dangers associated with keeping animals in extreme heat, we sometimes may overlook the dangers of harsh cold weather. If you are used to leaving your animals outside, keep an eye on the weather during the winter months.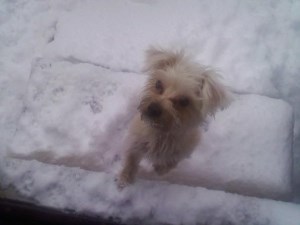 Dogs can suffer frostbite and hypothermia the same as people. Try to keep areas where your pets will be exploring free from ice as much as possible and check their feet when they return inside. Ice & snow packed into paws can keep animals feeling chilly (and also will make a mess around your house. Animals can also suffer cracked and bleeding paws during extreme cold. Be sure to keep your animals feet free from rock salt build up which can be dangerous if ingested. Like people, puppies/kittens and older animals are more susceptible during the cold months. Make sure your pet has a warm place to stay if you leave your home. We love our pets and we know you do too. Keep an eye out for any strays as the temperatures drop and report any you see to the Kentucky Humane Society or Metro Animal Services.