CenterStage JCC Louisville Ky Presents Ragtime November 2012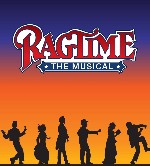 CenterStage at the Jewish Community Center in Louisville, Ky is currently presenting the Broadway Musical Ragtime. If you've never seen a show with CenterStage you should definitely check it out. CenterStage presents six to seven shows a year and is easily one of the best community theatres in town. Ragtime won the 1998 Tony Awards for Best Score, Book, and Orchestrations. The story follows three fictional families from different ethnic and socioeconomic backgrounds at the turn of the 20th century. As the families lives intertwine, the audience is given a thought provoking look at a variety of social issues. CenterStage gives a powerful performance that is sure to captivate you. If you'd like to see the show you can purchase tickets by phone 502-459-0660 or at the front desk at the Jewish Community Center located at 3600 Dutchmans Lane. Two chances left to see the show! Check out the Centerstage page to see other shows playing this season.
Saturday November 10th at 7:30pm or Sunday November 11th at 2:00pm
For more information about other events in the area, visit our Louisville Real Estate Website.