Real Estate Mobile App
We now have a brand new Real Estate Mobile App!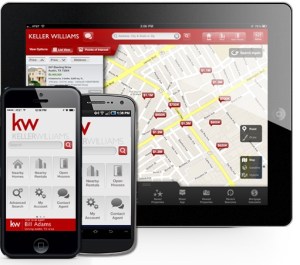 At Home in Louisville has just released a Real estate mobile app that allows you to search for any home available in the US.
To get started, simply click here on At Home In Louisville's Mobile App or on the picture on the left and you are on your way.
Once you get the app and open it up, the search happens automatically. The search results, by default, are based upon where you are standing with your mobile device. You can see all the homes and land currently for sale in a radius around you. You determine how far of a distance you want your results to be. You can also define your search by what you want to see. For example, you can set the results to show you only the price range of the houses you want to see.
The results are displayed on either a map or a list display. You will see a picture of the house, as well as basic details about the property and how much the property costs. If you want more information about the house, you just click on the photo. Once you click on it, more information pops up and additional pictures become available. if you have more questions about the property or you want to go see it, you can call text, chat or e-mail us right there in the app! This Real Estate Mobile App is great. We really think you are going to love it. The best thing about it? It's absolutely free. Enjoy.