Red Day 2011 Louisville Ky
Red Day 2011 in Louisville Ky at The West End School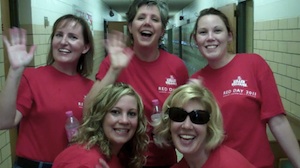 Red Day 2011 is a day when tens of thousands of Keller Williams agents from all over the United States and Canada volunteer and pour back into their communities. In 2010, 30,000 Keller Williams agents participated donating 125,000 service hours, or 60 years of service. The Lynn Thomas Team is passionate about their hometown of Louisville Ky and can't wait each year to donate their time and treasure to serve in their community.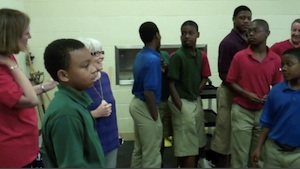 The Keller Williams Louisville East Real Estate office in Louisville Ky partnered with the West End School to offer young men willing to work hard an opportunity to succeed when their might not otherwise be that opportunity. The boys are in 6th to 9th grade. They live at school they are equipped with a rigorous study schedule with the goal of placing them in the finest High Schools in Louisville. They shake hands, look the agents in the eyes, during shared meals clearly articulate what their goals and aspirations are. Keller Williams is all about providing opportunity. This has been perfect fit for both organizations over the years.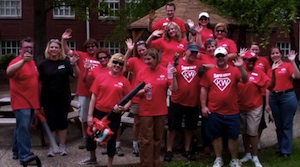 This year, The Lynn Thomas Team joined 42 real estate agents from the Keller Williams Louisville East office went to the West End School to share a meal and clean up the grounds. 'It's always a treat to visit the boys, have a meal and catchup with how they are doing,' says Perry Thomas Operations Manager of the team. A variety of food was placed on long tables. The Boys lead the prayer over the meal. Food was gathered, buffet style. Then they all headed to their seats. One boy say at each of the round tables so they had the opportunity to find out how the boys were doing and what their goals are.
Once the meal was complete they assembled to find out the fantastic news that the board just approved the opening of an elementary school K-5 in one of the wings of the school. The boys then headed off to class while the agents cleaned the kitchen, gathered up yard tools and headed out to work. The 90+ degree temperature was not enough to keep this tireless crew from completing the necessary cutting trimming and weeding of the courtyard.
The Lynn Thomas Team had a fantastic day. Working with the other Keller Williams agents to help the West End School was a real treat. To offer young men an opportunity to succeed at a high level brings joy to them that can only be matched with helping their clients sell and purchase their new homes.
To Find out other ways the Lynn Thomas Team gives back, visit the rest of their website.