Happy Thanksgiving in Louisville KY 2012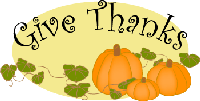 Happy Thanksgiving!! At Home In Louisville Real Estate Group is so thankful for all of our Friends, Family, and Clients. We are also very thankful for warm homes and another wonderful year at Keller Williams! What are your Thanksgiving Day plans? Whether you are spending a quiet day at home, traveling, or going for an outing we wish you a memorable safe holiday.
If you are planning to venture out on Thanksgiving Day or over the weekend and would like some festive entertainment options, you might enjoy visiting Churchill Downs, going to see A Christmas Story at Actors Theatre of Louisville, or a performance of White Christmas at Derby Dinner Playhouse. You can also take in a movie at Tinseltown or RAVE. Fitness enthusiasts might even like to take part in the various Thanksgiving Day Runs or "Turkey Trots" in town. The YMCA and and Anchorage Civic Club will both be hosting a Turkey Trot this year. Have a restful and wonderful Holiday weekend!