Valentines Day Ideas
It's not always easy to get away for a romantic weekend or create that perfect date night on Valentine's Day, especially with a hectic schedule and a family at home. So, I spent some time on Pinterest and found a few fun simple ways to get into the Valentine's Day spirit at home. Don't forget to check out our At Home In Louisville Real Estate Group Pinterest boards http://pinterest.com/AtHomeInLou/ for some more great holiday tips and crafts!

Valentines Day decorative frame: What could be a quicker way to spruce up the home than printing a little Valentine photo (personal or predesigned ) and popping it into a picture frame? Chic frames can be purchased online or in local stores (Target is great!). If you can't find one in white, you can always grab a can of spray paint and make your own!
Valentines drinking straws: This is a fun way to add a little love to your drinks. Cut out some paper hearts and decorate them. You can add sweet sayings or decorate with markers. Then cut two small straight lines throught the center and slide in your drinking straw. Quick and cute! See the pins in the DIY & Crafts board on At Home In Louisville's pinterest page and link through for step by step instructions.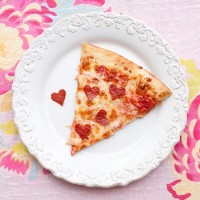 Valentines Pizzas: No need to bake endless amount of red and pink cupcakes for this holiday. Grab a pair of cooking scissors and cut little pieces of pepperoni into hearts. Cook them on your pizza and enjoy!
Valentines Day Drinks: Nothing could be more simple than adding food coloring or strawberry powder mix to your milk to get a perfectly pink drink. You can even decorate your glass if you like. There are also tons of delicious drink options online like this recipe for Cupid's Floats: Cherry 7 up, a scoop of vanilla ice cream, topped with a maraschino cherry.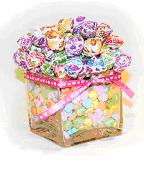 Edible Valentines Centerpiece: Cute, easy, and yummy! This décor is double handy- It gives your house the feel of Valentine's Day until February 14th, and when you are done with the decoration you don't have to throw it out, you get to eat it. Win win.
We hope you enjoy your Valentines Day in Louisville Ky this year! We invite you to visit our website for more things to do in Louisville and to view Louisville Real Estate.
By: Katelyn Vittitow, Buyer Agent